We don't cut corners; we clean them!
We have perfected the art and science of hassle-free gutter cleaning. We will handle every aspect of the job so that you can focus on the more important things in your life. Every square inch of your guttering system, from the hardest to reach corner down to the base of your downpipes, will be thoroughly inspected and cleaned.
---
Gutter Cleaning is necessary for a variety of reasons:
To prevent the build-up of leaf and associated debris constantly falling from nearby trees

To check and clear blockages in downpipes

To check for and remove foreign objects such as balls, small toys etc. that have ended up on your roof and have washed into the gutters

To assess and repair leaking gutter joins and gutters that are overflowing at the front of the gutter or into the eave/roof space behind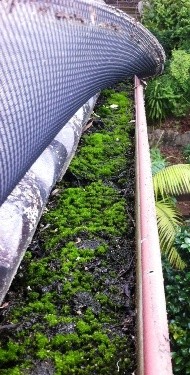 ---
Our Gutter Cleaning Services Include:
Onsite assessment and consultation ( adhering to all current social distancing requirements)

Free Written Quotations

Any domestic gutter clean quotes that are accepted on the spot can will be carried out on the same day

Removal of all built-up debris, branches, dirt, mud, moss and any foreign objects from all roof areas, valleys, gutters and downpipes

Removal and refitting of any existing gutter guard as necessary to facilitate the removal of accumulated debris underneath - we will always check underneath the gutter guard (beware of contractors who simply just blow off the leaves on top of gutter guard but do not check for debris that has penetrated and built up underneath)

Clearing and flushing all downpipes to make sure they are flowing properly

Diagnosing downpipes that may be blocked at stormwater level (underground)

Ground-level clean-up – clearing and sweeping as necessary all paths, driveways, courtyards

Removal from the site any accumulated debris

Identification, assessment and advice on any roof defects that are apparent during or that are pointed out to our technicians prior to the cleaning process

Recommendation of other trade contractors as necessary (Stormwater clearance, Remedial roofing, etc.)

Before and after digital photos sent to you with the invoice by email

Clear communication throughout the entire process

Contactless payment options

Free reminder service with a recommended ongoing frequency
---
We leave no leaf unturned.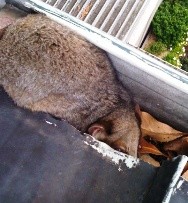 What Are The Benefits Of Professional Gutter Cleaning?
Protects your ceiling and internal structures from overflowing gutters

Extends the lifespan of your gutters and downpipes

Prevents fire hazards due to dry leaves accumulating in your gutters (both the Rural Fire Service and the State Emergency Service highlight that regular gutter cleaning is a top priority for preparing for the summer storm and bushfire season)

Reduces nesting environments for vermin and pests

Prevents DIY gutter cleaning accidents
---