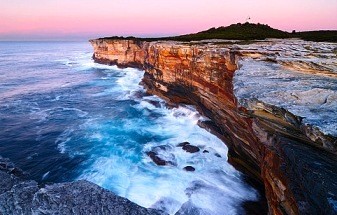 Are you searching for a Sutherland Shire gutter cleaning company that you can rely on?
Don't let your gutters rust away. Instead, keep your gutters clean to extend their lifespan and prevent expensive water damage.
Sydney Gutter Clean is your local Sutherland Shire gutter cleaning company. Call today for a free quote
The Southern Suburbs and Sutherland Shire have some of the most magnificent natural landscapes in all of Sydney. From the stunning cliffs in the Royal National Park that poke over the Pacific Ocean to the iconic waterways of Botany Bay, the Sutherland Shire is one of Sydney's most loved regions.
With over 200,000 residents, The Shire, as locals affectionately know it, is also one of the most dynamic areas in Sydney, with a mix of residential, commercial and industrial zones. As the second most populous local government area in New South Wales, the Sutherland Shire is one of Australia's most energetic areas.
No matter where you live in The Shire, whether it be in a flat overlooking Cronulla Beach or a family home nestled in the bushland in Illawong, you will know that keeping your gutters clean in the Sutherland Shire is a mammoth task. Due to the low population density in the region, which ensures that traffic never gets too bad, there is an abundance of native flora that thrives in the dense bushland. Unfortunately, these trees, including native Eucalypts, Banksias, Bottlebrushes, Wattles and Paperbark trees, tend to block gutters with their leaves. Especially predominant in The Shire are Moreton Bay Fig trees, which can cause significant gutter blockages with their large leaves.
If your gutters are blocked, there is an easy solution – give us a call for a free gutter cleaning quote.
Why Choose Sydney Gutter Clean?
Free Quotes – We know that we offer the most affordable professional gutter cleaning services in the region. If you want to know how affordable our services are, all you need to do is fill in the request a quote form or give us a call today. Just let us know what type of property you have and how many stories high it is, and we will get back to you as soon as possible.
Highly Recommended – We have spent years developing a reputation as one of the city's leading gutter cleaning firms. With a massive base of satisfied customers, we continue to refine and improve our services to ensure that we can keep each of our customers satisfied and ready to recommend our services. With over 400 testimonials from satisfied domestic, commercial and strata clients in the Greater Sydney region, we can proudly say we are the most recommended gutter cleaning company in Sydney.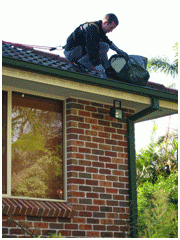 Your Local Gutter Cleaner – As we are a locally owned and operated business, we are determined to provide our neighbours with outstanding workmanship and friendly service. With Sydney Gutter Clean, you will never be treated as a number. We take great pride in providing personalised service to each and every one of our valued customers. Each of our gutter cleaning technicians has an intimate understanding of the local weather conditions in the Sutherland Shire as well as local building and safety regulations, so they are in the best position to provide you with expert assistance and advice. There is only one team you need to get to know for expert gutter cleaning services you can rely on – Sydney Gutter Clean.
Complete Roof Maintenance Professionals – Our team of thoroughly trained and insured gutter cleaning technicians do more than just clean gutters. If your gutters need repair, they can get the job done professionally. If you have minor roof damage, our qualified repairers will provide you with options to extend the lifespan of your roof. Additionally, we install gutter guards and safe roof access systems.
No Mess Guarantee – We have heard a lot of reports of other gutter cleaning companies removing bunches of leaves from the roof but then leaving them all over the yard at the end of the job. At Sydney Gutter Clean, we have a "no-mess guarantee". All leaves, debris, sticks and rubbish that we remove from your guttering system will be removed from your property. So if you want the job done right the first time, call your reputable industry professionals.
Don't risk injury, or worse, trying to clean your gutters if you cannot safely access them. Sydney Gutter Clean has spent years perfecting the art and science of accessing roofs and cleaning gutters safely. Using advanced safe roof access systems, the fully trained gutter cleaners take the hassle, stress and danger out of having your gutters cleaned. Don't risk using an amateur gutter cleaner that may offer cut-price rates but is not insured. All of our gutter cleaning technicians are fully trained and insured to ensure they can get the job done correctly and safely the first time.
For a free quote, give us a call today on . To learn more about the rates we provide, visit our gutter cleaning cost page.
---
Our gutter cleaning professionals are from your community. Visit our location pages to explore the benefits of choosing Sydney Gutter Clean as your local gutter cleaning team.
Call today on for a free quote!
---
Where Do We Service In The Sutherland Shire?
We offer discount gutter cleaning rates for all commercial, strata-titled and residential properties up to four stories in height in the following suburbs:
Cronulla, Bundeena, Como, Bangor, Barden Ridge, Caringbah, Dolans Bay, Gymea, Engadine, Jannali, Illawong, Heathcote, Kareela, Kirrawee, Loftus, Kurnell, Miranda, Oyster Bay, Sutherland, Taren Point, Woronora, Waterfall, Sylvania, Yowie Bay, Sandy Point, Maianbar, Lucas Heights and Lilli Pilli.
We are a Trades Monitor accredited contractor and members of the Housing Industry Association. The gutter cleaning techniques we use are time-tested and will result in your gutters staying cleaner for longer. We don't cut corners and endeavour to provide the highest standard of gutter cleaning, no matter the size of your property.

For a free quote, give us a call today on
We look forward to assisting you in extending the lifespan of your gutters.