Sydney's Central Business District or CBD is the main commercial centre of the city. There are numerous businesses such as restaurants, department stores, and clothes shops based here, and it has a real buzz.
Due to Sydney's CBD being so close to the ocean, it experiences a lot of windy weather. This can cause problems for businesses when leaves and other debris are blown onto their roofs and gutters.
Gutter Cleaning Sydney
If you are looking for a gutter cleaning service in Sydney Central Business District, you have landed in the right place. Sydney Gutter Clean is the premier gutter cleaning Sydney Company. Call us today on for a free quote.
We have been gutter cleaning in Sydney for over 20 years. During this time, we have expanded to service more than 6000 strata-titled properties, 6000 residential properties, numerous commercial premises, retirement villages and retail outlets.
With figures like these, you can rest assured you are in good hands. If you do not believe us, then just look at our numerous five-star google reviews.
Here is one of them.
"I had booked to have gutters cleaned and an inspection of the roof to take place. I have nothing but the highest of praise for Josh the technician who came to my parents' home and cleaned the gutters and completed the report. He was so informative. He took the time to explain the work completed and answered all of our questions. He was fantastic and professional in completing the work. He had photos of the gutters and roof. When asked if we needed to replace tiles on the roof or the guttering, he was honest and said no but he did provide suggestions on what we could do to rectify a minor leak from the roof. I would have no hesitation in recommending Sydney Gutter Clean to anyone who wants technicians who are professional, honest, punctual, efficient, capable and really knowledgeable about their work. This is the second time I've used this company and I have now asked them to send me an annual reminder so I can ensure the gutters are well maintained. You won't be disappointed with their great service!" Adla Coure
How often do your gutters need cleaning in Sydney?
Most experts reckon gutters should be cleaned between two and four times per year. This is all dependent on weather conditions, though.
The recent storm that hit Sydney was just one example of many. So often, these storms bring down leaves, debris and even trees in their path.
Regular gutter cleaning in Sydney can prevent such problems as leaking gutters, fascia damage, rot and even structural damage!
One of the reasons we are such a popular gutter cleaning Sydney service is the fact we inspect your gutters and roofs when we clean them. This often reveals unseen damage that can be quickly and easily fixed. Fixing the damage at an early stage often saves 100s even 1000s of dollars in the long run.
Is regular gutter cleaning important?
As we mentioned earlier, uncleaned gutters can cause significant damage in the long run. When gutters are not cleaned regularly, leaves usually block downpipes, and the water can run back into your house, this can lead to all sorts of problems such as,
damp

mould

cracks

damage to woodwork

rodent and insect infestations

structural damage
These problems can result in 1000's of dollars of repairs. Many have ended up forking out for a massive bill because they neglected to clean and maintain their gutters.
Gutter cleaning is one of those things that no one likes to do. Unfortunately, it is also usually at the bottom of house maintenance jobs. Maybe this is because of the old saying, 'out of sight, out of mind'.
Due to the problems we've looked at, hopefully, you see the importance of regular gutter cleaning and maintenance in Sydney now. So when was the last time you cleaned your gutters or had them inspected? If the answer to that question is 'too long ago', give Sydney Gutter Clean a call today on . You will find out why we are trusted by over 65 individual strata management companies around Sydney.
What services do Sydney Gutter Clean offer?
Sydney Gutter Clean goes above and beyond most other gutter cleaning services in Sydney. Apart from our punctuality, honesty and reliable service, you can also expect the following.
Free gutter cleaning quote

WHS compliant

Free reminder service

Mess-free service

Top-class gutter cleaning results

Excellent customer service
Our clients have continued to stick with us for years and regularly refer friends and family.
For example, this is what one client said about us,
"Jean-Marc arrived at the agreed time, was polite, thorough and efficient. He communicated all aspects of the job to us prior to commencing and again on completion, despite having to contend with an approaching storm. The before and after photos provided by him clearly show the quality of work done. We would have no hesitation in recommending this service." Lee Lowe
Before and after gutter cleaning service in Sydney photos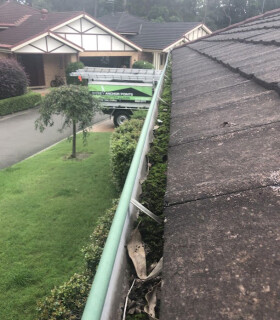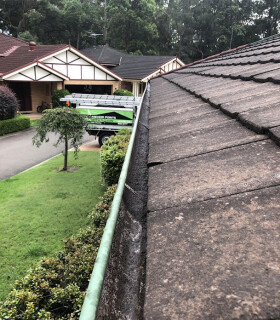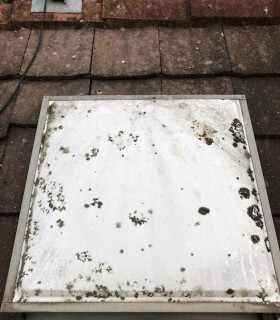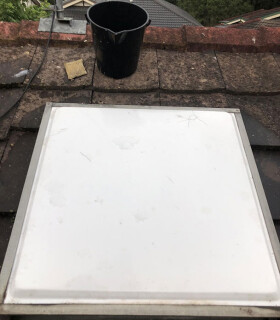 If you would like to see the same results as above, contact one of our friendly team today on or fill out our contact form below for a free, no-obligation quote. From Chinatown to Circular Quay, Sydney Gutter Clean is the Central Business District gutter cleaning Sydney expert.