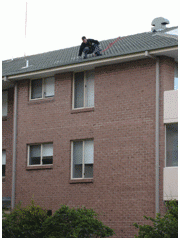 For our clients in the strata and real estate industries, Sydney Gutter Clean focuses on providing a fast, reliable, efficient service and requires minimal management on the part of the strata manager or real estate agent. Your clients are our clients, and our endeavour is for the professionalism of our service to reflect back on you.
We currently service over 6000 strata-titled properties and numerous real estate managed properties, with more than 65 strata management companies and many real estate companies across the entire Sydney metropolitan district on our customer database.
Contact & Quote
To contact us, simply fill in the below online form or give us a call on . If you prefer to email us, please feel free to contact us at [email protected] . If necessary, we can liaise with your on-site contact to discuss and assess the required work specifications. Our usual turnaround for quotes is two working days, but we can respond faster if necessary; a written quote can be sent to you by email or post.
The Job
Once you have agreed to our quote, we will commence the work within 1 week of approval. If you require a more rapid response, please let us know so we can endeavour to meet your demands. If written notice is required for residents, this can be provided upon request. For Occupational Health & Safety and insurance reasons, we are usually unable to work in wet weather. At the completion of the job, we will remove any sticks, branches, leaves and debris from the site. We try and provide 'mess-free' gutter cleaning for all Sydney properties. To do this we will require access to all common property and on occasions access to private courtyards and balconies. Our service also includes:
Risk Assessments on each visit to each site.

Minor roof repairs if required.

Itemised roof and gutter condition report upon completion.
Invoicing & Payment
With your invoice, our specialised gutter cleaners are able to provide an itemised report on the condition of your report. If there is any minor, serious or potential damage to your roof and gutters, our report will ensure that you know ahead of time. In addition, our gutter cleaners are experienced professionals and can recommend a gutter cleaning frequency schedule for each individual property to ensure that you can lengthen the lifespan of your roofing and guttering systems. Payment can be made by credit card, cheque or internet transfer.
Reminder Service
A free reminder service is also available to help our clients manage their programmed maintenance requirements. When our work is complete, we can recommend a gutter cleaning frequency to suit your property. See further details about our Free Reminder Service.
Safety
At Sydney Gutter Clean we take safety seriously, which means that of both our people and anyone else who may enter our working environment. All our people are OH&S compliant, having received training which includes WorkCover induction and Working at Heights certification. We adhere to all requirements in the WorkCover act, and our people are equipped with all the personal protective equipment necessary to carry out all aspects of our work safely. A Risk Assessment is performed at the commencement of each visit to each site.
Regular documented internal safety checks on our equipment and work practices are undertaken to maintain our high standards of safety. We are fully insured for Workers Compensation and Public Liability ($10 million) and are happy to provide our clients with Certificates of Currency for both. Information about our procedures, policies and Safety Management Plan is available upon request.
Our Services Include:
Our gutter cleaning professionals are from your community. Visit our location map below or the specific pages below to explore the benefits of choosing Sydney Gutter Clean as your local gutter cleaning team.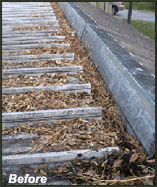 Call today on for a free quote!