We understand that many of our customers are busy people looking for a fast, safe, friendly and reliable service.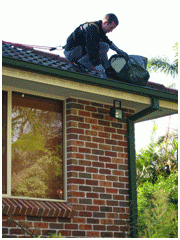 Sydney Gutter Clean currently services over 1600 residential properties each year. We service properties of any height and size from single storey villas to four-storey mansions with gutters, roofs, and access of any type.
Contact & Quote
To contact us, fill in the below online form or give us a call on . A professional team member can usually meet you at your property within 24-48 hours to provide you with a quote, or we can call you from the site and discuss your requirements over the phone.
The Job
Sydney Gutter Clean is ready when you are. We are happy to do the job on the spot after you approve the quote. A discount applies to customers who choose this option. This saves you the hassle of arranging another suitable time for us to come back and complete the job.
Of course, there is no pressure to make an on the spot decision, and we are happy to come back after you have had time to consider our quote. Either way, our teams always have all the ladders, cleaning tools and safety equipment required for any job.
Invoicing & Payment
With your invoice, we include a report on any noticeable damage to your roof and gutters. We can also recommend a gutter cleaning frequency schedule for each individual property. Payment can be made by credit card, cheque or internet transfer.
Reminder Service
A free gutter cleaning reminder service is also available. We will send you this reminder via post, email, or phone when your gutters are due to be cleaned again.
Special Offer
We offer a $55.00 inc GST discount on your first Sydney Gutter Clean service to show our appreciation for new business. All you need do is be prepared for us to do the work at the time of quotation.
Safety notice
Unfortunately, some new customers don't realise they have a problem until it rains and their gutters become blocked. Due to our strict safety policies, we are usually unable to access your roof while it is raining. Therefore, we may have to wait until the weather permits us to carry out our usual service.
Safety is everyone's responsibility - for more information on how you can provide a safe work environment at your home, click here.

Why clean gutters are so important
It eliminates the chance of water penetration and severe damage to your property's ceilings and other internal components

It lengthens the life of your gutters and downpipes

It reduces the possibility of fire damage, especially in rural and bushland settings

It minimises the breeding area for insects and vermin
We offer a complete range of services, including:
Our gutter cleaning professionals are from your community. Visit our location pages to explore the benefits of choosing Sydney Gutter Clean as your local gutter cleaning team.
Call today on for a free quote!