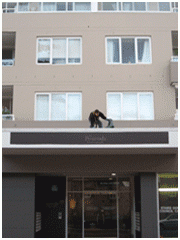 If you require immediate assistance with the gutter cleaning in Sydney at your commercial property, then Sydney Gutter Clean is here to provide you with 24-hour or faster response. Of course, we also provide quotations and or programmed maintenance schedules to cover your gutter cleaning requirements.
Sydney Gutter Clean currently services over 500 commercial properties yearly, including industrial factory complexes, hospitals, government buildings, hotels, colleges, and retail outlets. We service properties of any height and size, from single-storey shopfront awnings to multi-storey commercial buildings and large multi-unit factory complexes.
Contact & Quote
To contact us, simply fill in the below online form, or give us a call at . A professional team member can meet you at your property, usually within 24-48 hours, to provide you with a quote, or if necessary, we can call you from the site and discuss your requirements over the phone. In an emergency, contact us direct, and we will be on-site to clear your gutters and downpipes within one working day of your phone call.
The Job
Once you have approved our quote and provided us with a written work order, we will complete the work within one week of approval. If a faster response is required, please advise us so we can endeavour to meet your schedule. It is important to note that we usually cannot work in wet weather for safety and insurance reasons. After the job, we will completely clean up any mess created and remove any accumulated debris from the site. Our service also includes:
Risk Assessments on each visit to each site.

Minor roof repairs if required.

Itemised roof and gutter condition report upon completion.

Free reminder service.
Invoicing & Payment
We can include a report on any noticeable damage to your roof and gutters with your invoice. We can also recommend a gutter cleaning frequency schedule for each individual property. Payment can be made by credit card, cheque or internet transfer.
Reminder Service
A free reminder service is also available. When our work is complete, we can recommend a gutter cleaning frequency to suit your property and arrange for a reminder before the next recommended appointment.
Safety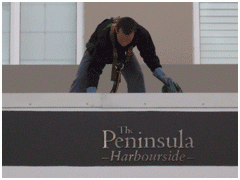 As a team of professional Sydney gutter cleaners, we take safety seriously! Not only are we committed to guaranteeing all of our staff work in safe conditions but we are also diligent in ensuring else who may enter our working environment is safe. All of our gutter cleaners use techniques that comply with relevant Occupational Health & Safety requirements. In addition, each of our gutter maintenance professionals has undertaken Work Cover induction and Working at Heights certification. At Sydney Gutter Clean, we adhere to all requirements in the Work Cover act and our employees are equipped with all the personal protective equipment necessary to carry out all aspects of our work safely. When we undertake a gutter cleaning job at a new site, we perform a risk assessment to ensure that we can safely carry out all work and identify any hazards.
We regularly inspect our equipment and all our work practices and methodologies to ensure that we can maintain our outstanding safety record. We are fully insured for Workers Compensation and Public Liability and are happy to provide our clients with Certificates of Currency for both. Information about our procedures, policies and Safety Management Plan can be found here.

Areas we service:
Why Should I Have My Gutters Cleaned On My Commercial Property?
Regular gutter cleaning is one of the most essential property maintenance tasks, and we are not just saying that because we are one of the leading teams of gutter cleaners in the Sydney region. Cleaning your gutters can extend the lifespan of your gutters, your roof and prevent expensive repair jobs in the future. Regularly cleaning your gutters can be considered an investment in your property. Here are four important reasons to clean the gutters on your commercial property:
Prevent gutter blockages that can lead to water damage to the internal structure of your property and roof cavity.

Extend the lifespan of your roof and gutters.

Gutter cleaning is an essential bushfire preparation task, as it prevents the buildup of dry leaves and debris in your gutters which can start fires from embers blown in the winds.

Removing environmental debris prevents rodents and vermin from living in your gutters, which can not only cause disturbance and hygiene issues and lead to roof cavity damage.
Why Choose Sydney Gutter Clean For Commercial Gutter Cleaning?
Sydney Gutter Clean is the leading residential, strata and commercial gutter cleaning team in Sydney. Sydney Gutter Clean has the personnel, equipment and skills to safely and efficiently clean your gutters without causing disturbance to your commercial business activities.
Sydney Gutter Clean recognises the need to clean gutters safely, conduct a full risk assessment prior to commencing work, and use a Safe Work Method Statement. In addition, upon request, Sydney Gutter Clean will supply a copy of our Public Liability Insurance and Worksafe Insurance Policy.
Commercial gutter cleaning is a specialised field as commercial buildings are generally larger and taller than residential properties. Sydney Gutter Clean has specialised safety equipment that allows us to reach the roof of buildings up to four stories in height. Once we access your roof, our fully trained gutter cleaners will remove all environmental debris from your gutters, flush your downpipes and remove any waste from your property. We will also provide you with a roof and gutter report so that you can know the condition of your roof without having to climb up there yourself.
Sydney Gutter Clean has been founded on a philosophy of "quality service", so you can be sure that the standard of gutter cleaning and customer service that we offer is second to none. For commercial gutter cleaning that is stress-free, call the industry leaders Sydney Gutter Clean.
Sydney Gutter Clean doesn't only clean gutters but offers a range of services, including: