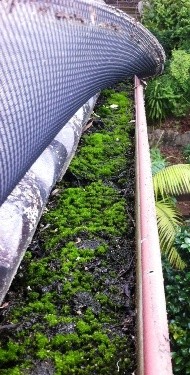 Blocked Gutter & Downpipe Cleaning Sydney
Are there any types of gutters that are maintenance-free?
In a word: No. Though some gutters may be more maintenance-intensive than others, they all need maintenance. Most houses in Australia use regular eave gutters which are connected to the edge of the roof structure. Usually, these are made of zinc treated or painted steel such as Colourbond. These types of gutters can rust over time, meaning that you need them cleaned regularly to avoid the build-up of debris. This prevents any standing water or moist organic material from collecting.
In more urban areas, many Australian roofs use internal box gutters. These are normally for townhouses, apartment blocks or commercial buildings. Box gutters are often sandwiched between two separate sections of roof and can be situated directly above your living space. Needless to say, the consequences of leakages in internal box gutters can be more extreme. Regardless of your gutter type, be assured that it does, and will continue to need regular maintenance.
For simple gutter cleaning solutions, give us a call today on .
What Damage Can Blocked Gutters Cause?
Failure to maintain your gutter and clean your downpipes can lead to a build-up of organic matter (leaves, dust, and even live grass). Following rain or even dew, this organic matter retains water which slowly corrodes the steel, eventually causing holes or leakages. Blockages can also cause water to back up for meters having the same corrosive effect over a much larger surface area. Damage to the gutter itself is far from the worst damage a non-maintained gutter can cause. During heavy rains, a clogged downpipe or a dirty gutter can lead to the gutter overflowing. For regular gutters fixed to the edge of the roof structure, water can overflow and severely damage gardens below, or it can even cause damage to fascia boards, eaves and the roof structure that it is attached to. For internal box gutters, it can be even more catastrophic, with water dripping onto your interior ceiling, furnishings, and carpet below.
Call Today On For A Free Quote!
---
Why Does Water Leak Behind My Gutters?
A few reasons could include:
Lack of maintenance: If you never clean your gutters, they will eventually leak.

Improper installation: A common installation error is improper sloping. In Australia, the minimum slope for external eave gutters is 1:500 (2mm fall for every 1 meter of guttering). For internal box guttering, the minimum slope is steeper again at 1:200 (5mm fall for every 1 meter of guttering).

Sagging: For eave gutters, if adequate bracing was not installed, under-supported spans of gutter can sag, leading to standing water, then rust, and eventually holes.
Other issues: Since finding the cause of leakages requires a trained eye, it is best to have a professional come and inspect it on-site. While they may recommend some repairs or adjustments, make no mistake, it'll be far cheaper than repairing the damage caused later on.
---
Can I Put A Ladder Against My Gutter?
For the DIY warriors out there, you may wonder if it is good practice to lean a ladder against your guttering. This is one area where you should always proceed with caution for the following reasons:
Damage to your guttering: Depending on the spacing and strength of the gutter brackets that were used for installation, and the overall metal strength, this can potentially cause damage.

Paint damage: For Colourbond or painted gutters, a ladder can damage the paintwork. Once the paint is damaged, the gutter becomes more susceptible to corrosion over time.

Safety: Working on roofs is a high-risk occupation for which additional training and licensing is needed. Gutter edges can make for very sketchy ladder-access points. Metal surfaces offer very little friction against your ladder surface, meaning you could climb up the ladder, only for the ladder to start falling sideways at 3 meters up. Countless injuries and fatalities have been caused by this very mistake.
But you may ask: How do professionals access a roof if they can't lean a ladder against it? In the case of Sydney Gutter Clean, our trained professionals can quickly identify the type and strength of the gutter to decide whether or not it can withstand the stress. They will carefully assess the strongest, most stable section of gutter to access the roof, whilst taking precautions to cause zero damage. As certified professionals for working from heights, we have various safety measures and protocols to mitigate the risks.
---
How Do I Know If My Downpipe Is Blocked?
When perforated: Your gutters can drip from tiny holes underneath during light rain or dew in the mornings. This is often a sign of rust.

When improperly installed: The gutter will overflow during moderate to heavy rain. This is often a sign of inadequate slope, or sagging due to poor bracing.

When blocked: You may see visible discolouration, mildew, and even corrosion at the joint between the downpipe and the gutter, or at the point where it is blocked. Usually, downpipe blockages occur at the bends in the downpipe just below the gutter level. In the case of square downpipes, there are visible riveted joins at the bends in the pipe where you would typically detect discolouration.
When not maintained: You may see grass growing from the gutter. It is actually not unusual to see grass growing from a downpipe at the roof level because there is so much debris clogging the opening. This is a sign that regular gutter cleaning is needed.
---
Where Do We Service?
We service the following Sydney suburbs regions:
Wherever you are around Sydney, give us a call for your free quotation now. We can assess the maintenance condition of your roof at no cost to you, and recommend any needed repairs or preventative maintenance. We provide a value-for-money maintenance service that is sure to save you money in the long term. We also offer a free, no-obligation reminder service, should you want us to continue keeping your gutters in tip-top shape.
---
Why go with Sydney Gutterclean?
With Sydney Gutter Clean you're always getting first-rate, value for money service, while you can rest assured that we will never cut corners on professionalism and safety. We'll always leave your garden and grounds in the same condition we found it, with no mess left behind. Gutter cleaning is our specialty with 20+ years of experience in the business. Have a browse through our Google Reviews to see that we're the number 1 gutter cleaning team in Sydney. Let us make sure that your roof, and in turn your house, is always safe and secure.